Archive for April, 2011
I've become accustomed to hard-boiling an egg for my breakfast so I was pleased to see a surplus of Easter eggs after celebrating this holiday last Sunday. My dexterity for shelling eggs is not a-pealing (ha ha) so I decided to try an eggs-periment: Microwave an Easter egg just long enough to heat it up and loosen it up for eggs-traction. If I'd have quit after my first try of 15 seconds, I may've succeeded. But the egg just didn't feel hot enough so I added more time. Kapow! The eggs-plosion left nothing more than a millimeter of shell intact. The uniformity of organic matter throughout the inner surface of the microwave oven was very interesting, I think – quite impressive.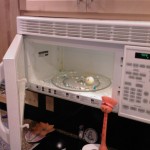 Although I consider this to be a very successful experiment, it's one that I don't feel needs to be replicated. My colleagues at Stat-Ease have provided a number of suggestions for another eggs-periment such as boiling the Easter eggs in vinegar or baking them. This creates a looser shell, they say.
Feel free to provide other ideas, but keep in mind that disaster seems to lurk behind me whenever I try an experiment. My failures tend to be quite spectacular. But, on the other hand, that's what makes experimentation so eggs-citing!