Archive for October, 2014
While in Antwerp last week I sampled many good beers but none as good as the Trappist-brewed Orval pictured.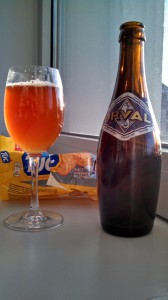 The locals love it so much that demand far exceeds supply from the ever-shrinking ranks of monks who brew it at the monks at the centuries-old Abbey of Notre Dame d'Orval. It is lip-smacking good, or as the Belgians in this Dutch-speaking region say—smakelijke.
On the flight home I watched several episodes of Brew Dogs, which features a pair of zany Scots who go for extreme craft beers. For example they took a blond Belgian ale and freeze distilled it many times to a level of 55 percent alcohol by volume (ABV)—a new record for beer. However even with it being infused with nettles from the Scottish Highlands and fresh juniper berries, this over-the-top brew must go well beyond the bounds of good taste.and … then put in a bottle created by a taxidermist.
A few years ago I headed over the border to Hudson, Wisconsin* to pick up a bottle of the then record-holder for ABV at a now-paltry 22 percent**—Dogfish Head's World Wide Stout. With some coaching from my number one son, I poured it into a brandy-glass and sedately sipped it.  I rate it zeer smakelijke. However, I am happy to go for far more reasonably high ABVs of 8 percent or so that come with tripel Belgian abbey ales. A few mugs of that provide a very good buzz. Proost!
*Many great beers do not achieve distribution in Minnesota due to liquor not being allowed for sale on Sundays and especially not growlers of craft-brews—all this being defeated again in May by State Senate. It seems that hell will freeze over and the Vikings will win the Superbowl before we can drink on Sundays. Until then it's on Wisconsin.
**See this beer well down the BeerTutor.com list of strongest beers in the world.
Years ago I traveled to Sweden intending to dig up some Anderson family roots.  Although I had little luck tracing back the tree (too many sons of Anders!) it was great fun touring this Scandinavian country that seemed so much like home in Minnesota.  One thing they had that we did not was a complete wooden warship—the Vasa —which sank on her maiden voyage due to some engineering issues (since then the Swedes have rebuilt their reputation!).  After a dramatic movie-reenactment of this ship's history, the lights came up and I discovered a dear friend of our family sitting right behind me.  Unbeknownst to me they'd also gone for a holiday in Sweden, decided to go to the same museum, etc. Miraculous!
It turns out that from a strictly statistical view, coincidences like this really are not so unexpected.  As physicist Freeman Dyson put it, "the paradoxical feature of the laws of probability is that they make unlikely events happen unexpectedly often."  A Cambridge mathematician laid this out in his eponymous Littlewood's Law of Miracles, which states that in the course of any normal person's life, miracles happen at a rate of roughly one per month.  Dyson provided a simple proof of this law as follows.  "During the time that we are awake and actively engaged in living our lives, roughly for eight hours each day, we see and hear things happening at a rate of about one per second.  So the total number of events that happen to us is about thirty thousand per day, or about a million per month…The chance of a miracle is about one per million events.  Therefore we should expect about one miracle to happen, on the average, every month."*
I wrote all this about Dyson and Littlewood over ten years ago in my May 2004 DOE FAQ Alert ezine.  What reminded me of it was this Science magazine review of a new book titled "The Improbability Principle, Why Coincidences, Miracles and Rare Events Happen Every Day" by Professor David Hand, former Chair in Statistics at Imperial College, London.  It lays out these five laws that explain why seemingly rare events are really not that unusual.
None of this surprises me.  In regards to the time I ran into a friend from Minnesota in Sweden, such encounters must be common that with so many of our inhabitants being of Scandinavian descent, most all of whom vacation in the summer, and go to the same popular attractions.  How many of you have unexpectedly met someone you know while traveling far from home?  I'd venture to say it's the majority.  That's what these statisticians are trying to tell us.  They really know how to take the excitement out of life. 😉
*Source: This review titled "One in a Million" by Dyson of the book "Debunked! ESP, Telekinesis, Other Pseudoscience" by Georges Charpak and Henri Broch.
We all know that banana peels are slippery, but who suspected this would be worthy of study.  I suppose that given there's a field of study (tribology) that focuses exclusively on the rubbing of surfaces, it stands to reason that the friction of fruits would come under scrutiny.  The Japanese researchers who studied banana peels were singled out for an IgNobel prize for an achievement that made people "LAUGH, and then THINK."  It turns out that learning what makes these fruit coverings (aka "epicarps") so slippery might lead to better lubrication of artificial joints.
It really is amazing how much a banana peel does to reduce friction.  Check out the data shown in this report by Business Insider.  As noted here in a Science News blog a floor littered with peels is not good for monkeying around, being nearly as slippery as ice, which us Minnesotans can readily appreciate.  It would be funny, though, to see someone try this.  Ha ha—someone already did as you can see in this Mythbuster's clip of slips.