Archive for April, 2015
Fred Dombrose, a force for use of statistical design of experiment in biomedical research, alerted me to an enlightening article on statistics asking "What is the question?" in the March 20 issue of Science magazine.  It lays out these 6 types of data analyses laid out by biostatistician Jeffrey Leak:
Descriptive
Exploratory
Inferential
Predictive
Causal
Mechanistic
For the distinguishing details going up this ladder see this Data Scientist Insight blog.  However, the easiest way to determine where your study ranks is via the flowchart provided in the Science publication.  There you also see four common mistakes that stem from trying to get too much information from too little data.
"Poor design of experiments is one of, if not the most, common reason for an experiment to fail."
– Jeff Leek, "Great scientist – statistics = lots of failed experiments", simplystats blog of 4/12/13
I spent the weekend in Prague attempting to relax after a stimulating two days attending the 2015 Camo User Meeting.  It really was great except for the main sights of the city being so crowded with tourists like me.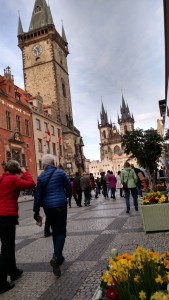 The traffic patterns vary greatly by the intermittent busloads of tour groups—big bunches of Japanese or Americans and other places worldwide that come to this wonderfully historic city.
It turns out that there's a universal power law governing pedestrian interactions according to studies led by the Director of the University of Minnesota's Applied Motion Lab Stephen Guy.  He and his collaborators have developed a novel statistical-mechanical approach to directly measure the interaction energy between pedestrians.  Using this simple interaction law they can simulate crowd phenomena such as two tour groups crossing a city square or trying to push into a just-opened attraction.  See these situations and others illustrated in CGI movies here.
All I can think of when viewing these simulations is how horrible it is to get caught up in a crowd.  The saving grace is you needn't think much when this happens—just let your natural collision-avoidance system take over and go on auto-pilot.
This is the view of the Charles Bridge in Prague from the usual vantage point of a fellow like me who likes his beer.  As reported here by Radio Prague, the Czech Republic leads the world by drinking 160 liters per person per year.  With half liter cans of Urquel going for less than 35 Crowns–only about $1.50 in US dollars, I can see why this alcoholic brew has achieved such popularity in this country.  Bottoms up!
A fine beer may be judged with only one sip, but it's better to be thoroughly sure.
-Czech Proverb