Archive for August, 2015
NBC's Today show posted this album yesterday of an Australian dog named Humphrey posing as a newborn baby.  Unbelievable!  This is what the world is coming to—far fewer children and many more animals being welcomed to families.
The latest issue of Bloomberg Businessweek tells this story of a German pet store with a quarter of a million animals—the world's biggest—to meet the ever-growing demand of empty nesters. I cannot decide what fascinates me more, the video of 32 weird animals for sale, or the "They Never Talk Back" graphic showing how many countries everywhere have increased per capita spending on pets. The United States leads the way with an arrow point well past $120 per person spent on their loved ones, that is, household animals.
"After food, clothing and medicine, the fourth item is cosmetics and the fifth is pets. That's serious."
–Pope Francis
For a very unsettling demonstration of statistics being easily biased to whatever result you like, go to this blog by science journalist Christie Aschwanden and chart maker Richie King.  Scroll down to the Hack Your Way To Scientific Glory control panel.  There you can play your hunches as to how Democrats versus Republicans affect the U.S. economy.  With a few changes in how you define the factors and measure the response, the results can be manipulated as you like.  Print out the final statistics and use them to beat up your political opponents.  What fun!
This summer has featured a number of occasions where I got roped into a group photo, always enduring an annoying number of "just one more" shots.  With this in mind, a retrospective in September's Popular Science on the 25th anniversary of the Ig Nobel awards caught my eye by calling out the 2006 Mathematics award.  This honor went to two Australian researchers who calculated that, for group photos of 20 or fewer people, you must divide the count by three and take that many photos to ensure that everyone's eyes will be open.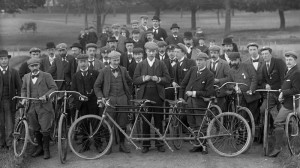 Check out what to do if there are more than 20 in your group, noting that things become hopeless beyond a count of 50, and the underlying statistical calculations detailed in "Blink-free Photos, Guaranteed," Nic Svenson, Australasian Science, August 2006, p48.
Upon accepting the award for frivolous research, the lead scientist, physicist Piers Barnes, said that
"We are proud to have made a gross simplification of complex physiological and psychological factors backed up with no empirical data. Like many other theories, if enough assumptions are made, we are confident that our expression holds."
(Source: This phys.org press release.)