Archive for May, 2016
While taking the scenic route back to Munich from Mad King Ludwig's fairy-tale Neuschwanstein Castle Neuschwanstein Castle, I looked up and saw this flimsy strand several hundred feet overhead just over the Austrian border.  My daughter and her husband insisted on hiking up to walk across it. Being a sucker for a dare, I could not resist joining them.  (My wife wisely stayed behind.)  It was awesome being up so high and swaying in the wind on the 1,322 foot journey each way above the chasm.
The Tibetan-style footbridge is called the Highline179 after the tourist route that winds through this part of the Tyrol.  It supposedly can hold up to 500 people.  However, I would not like to do a confirmatory test of this specification.  By the way, the ruins in the background are Fort Claudia–an outpost of Ehrenberg Castle.
If you are not afraid of heights, check out this video made during construction of Highline179.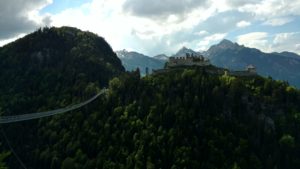 Despite odds of only 1 in nearly 300 million for a win, Americans are lining up to buy tickets for a chance at the ninth largest jackpot in U.S. history.  Why bother?  Evidently most of us, e.g., my wife,* suffer from "availability bias".  This occurs due to the diabolical way that lottery officials publicize winners, which when magnified by the media, makes is seem that these windfalls are commonplace.
Another fallacy, which tricks analytical types like me, is assuming that expected value becomes positive when the jackpot builds.  That is, for every $1 invested, more than that is likely to be returned, at least on average.  The flaw in this calculation is that lottomaniacs swarm on the big pots, thus making it very likely that the payoff must then be shared among multiple winners.  For details, follow this thread on XKCD's forum.
*I asked her "If you won the lottery, would you still love me?'" and she said: "Of course I would. I'd miss you, but I'd still love you."  (Credit goes Irish comedian Frank Carson for this witty comeback.)