Posts Tagged space
I got up a bit earlier than usual to set up my 8-inch reflector telescope for a view of the 6:31 AM CDT collision of NASA's Lunar Crater Observation and Sensing Satellite (LCROSS).  The weather was ideal – clear skies with no wind.  Never mind that we had our first frost – Minnesotans like me don't mind temperatures at the freezing point (knowing full well that soon this will be considered balmy!).  However, despite a spectacular view of the Moon's South Pole, I saw no evidence of the "man in the moon" getting 'goosed.'  To placate the alarmists who thought the Moon might be destroyed, NASA likened their crash to an eyelash hitting a jetliner.  From what I could see myself and the video by NASA, that is an apt analogy, assuming the eyelash came off a gnat.
So LCROSS proved to be a lot less dramatic than us skywatchers hoped for.  However, if the follow-up satellite sensed water blown up by its self-destructive predecessor, the mission will be a big success.  This will take a while to decipher as noted by Wired magazine's GeekDad blogger Brian McLaughlin.  If you are geeky like me, you will keep an eye out for the final outcome of this shoot-for-the-moon experiment.
PS. All this is mindful of the book by Jules Verne From the Earth to Moon posted with illustrations from an 1886 edition by NASA in their Space Educators Handbook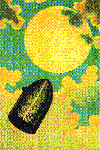 ("One small click for all mankind.").  It's fantastic!