Archive for category design of experiments
Craters are crazy and cool.  One that is quite amazing was created by the Barringer Meteorite that crashed into Arizona about 50,000 years ago with an explosion equal to 2.5 megatons of TNT.  Based on this detailing of what a 2 MT bomb would do I figure that Barringer would have completely wiped out my home town of Stillwater, Minnesota and its 20,000 or so residents, plus far more beyond us.  The picture my son Hank took of the 1 mile wide 570 foot deep crater does not do justice to its scale.  You really need to go see it for yourself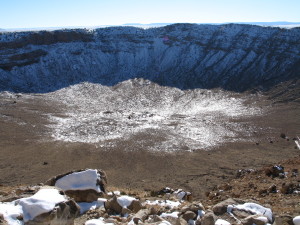 as the two of us did.
Because of my enthusiasm for craters, making these rates number on my list of fun science projects in DOE It Yourself.  As noted there, members the Salt Lake Astronomical Society wanted to drop bowling balls from very high altitudes onto the salt flats of Utah, but workers in the target area from the U.S. Bureau of Land Management objected to the experiment.
Kudos to science educator Andrew Temme for leading students through a far more manageable experiment shown in this video.  In reply to me asking for permission for providing a link to his fantastic impact movies Andrew gave me this heads-up.  "I attended a NASA workshop to get certified to handle real moon rocks and meteorites at the NJ State Museum in Trenton.  This lab in the educator guide suggested mixing up your own lunar powder and throwing objects to simulate impact craters.  When I got home I ran the lab with a few of my classes and then made the video.  I used a Sony handheld camera that had a slow motion setting (300 fps)."  Awesome!
The other day I went up to the 9th floor of my condo building in Florida and tossed a football down on to the parking lot.  I am warming up to heaving a 15 pound mushroom anchor over on the beach side from atop one of the far pricier high rises along the Gulf.  However, I have to wait until the turtle nesting season is over.